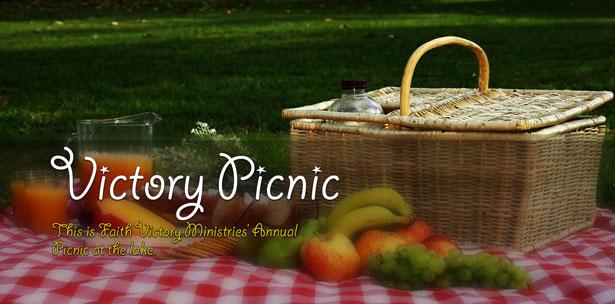 Each year, Faith Victory Ministries International has a picnic by the lake. It's a day of refreshing where the church family meets with the people of the city. Food, fun, and games are part of the experience, and both the Women's and Evangelism ministries share natural and spiritual food. The picnic is scheduled shortly before the city of Chicago's children return to school.
Summer time in Chicago is full of activity. In keeping with Chicago tradition, our church has an annual picnic, born out of our outreach ministry. It is held in the space outside of the Margate Park Field House, at 4921 North Marine Dr., Chicago, Illinois 60640. Participation is free and open to the public.
Because of the space available in the park, children (and adults) can play soccer, kick ball, tag, run, ride bikes, and enjoy nature. Picnic groves, playgrounds, dog-friendly areas, and a field house are part of Margate. There are also ornamental gardens where the beauty and loveliness of God's creation are on display.
The picnic is a family event and involves something for all to do, from the oldest to the youngest. There will be food, games, social time and relaxation. It is a time for FVMI to meet those outside the ministry, and for individuals to become acquainted with our church, experience the love of God in action, and to participate in wholesome fun.
Natural food will be available through the kindness and generosity of the Women's Ministry and individual church members. Spiritual food will be shared by the church pastor and the Evangelism Ministry.
Most of Chicago's children attend Chicago Public Schools and will return to school shortly after the picnic which takes place late in the summer. They will face many challenges including bullying, gangs, and learning in an often hostile environment. Parents will have the opportunity to receive godly counsel and prayer via FVMI's Evangelism Ministry on ways to enhance family relationships and meet challenges via God's Word.
Following are scriptures which depict our church's mission at the Victory Annual picnic:
Luke 5:4 (KJV)
4 Now when he had left speaking, he said unto Simon, Launch out into the deep, and let down your nets for a draught.
Matthew 15:36-38 (KJV)
36 And he took the seven loaves and the fishes, and gave thanks, and brake [them], and gave to his disciples, and the disciples to the multitude.
37 And they did all eat, and were filled: and they took up of the broken [meat] that was left seven baskets full.
38 And they that did eat were four thousand men, beside women and children.
Acts 3:19
19 Repent ye therefore, and be converted, that your sins may be blotted out, when the times of refreshing shall come from the presence of the Lord.